The Caribbean attracts millions of visitors every year. Warm climate, breathtaking scenery, and a laid-back lifestyle are the recipe for a perfect vacation. Not to mention that all the islands boast beautiful beaches and offer an abundance of activities and pastimes. But what about investing in the real estate market? Purchasing a property is always a wise, profitable decision. It becomes a valuable asset as well as a passive source of income. Among the beautiful Caribbean islands, Jamaica has one of the fastest developing real estate markets. For that reason, purchasing a property in this enchanting country is a sound investment with great returns. From government incentives welcoming both foreigners and residents to a paradise-like environment, here are the top reasons to invest in Jamaica real estate.
Jamaica is politically and economically stable
One of the main reasons investing in Jamaica real estate is so desirable is stability. Jamaica enjoys a stable and peaceful environment in both political and economic sense. Homebuyers and investors are welcome, regardless of where they come from. Also, the Jamaican dollar is stable, crime rates low, and living costs are affordable. All of these factors contribute to making your investment safe and profitable.
No restrictions for international investors
Another great advantage if you want to invest in Jamaica real estate is that the law doesn't differentiate between local and foreign investors. The terms are favorable and the same for all property buyers. Getting a visa is simple, and there are no restrictions for international investors!
So, whether you plan to move permanently, buy a vacation home, or purchase an investment property, Jamaica is the right place. Currently, the majority of investors come from Canada and Europe. In addition to that, more and more members of the Jamaican diaspora opt for purchasing their dream home here.
Purchasing costs are not high
As you probably know, purchasing a property requires careful planning and budgeting. There are many expenses to consider – from closing fees and interest rates to taxes. The good news is that the Jamaican government has significantly reduced numerous real estate taxes.
Low closing costs
Closing costs of buying a property in Jamaica consist of several fees and taxes. For example, you should add transfer tax, stamp duty, and registration fee to the property's purchase price. Fortunately for all home buyers and investors, the government has significantly reduced them. Transfer tax used to be 5%, and now is down to 2%. Additionally, stamp duty is considerably lower – instead of 4%, the buyer and seller now share a fixed flat fee.
Low interest rates and property taxes
In addition to all these benefits, the banks have also significantly reduced interest rates. Therefore, the mortgage is more available to locals and international investors. However, keep in mind that the eligibility criteria remain the same. It's also worth mentioning that Jamaica has one of the lowest property taxes in the world.
Growing and vibrant real estate market
If you invest in Jamaica real estate, you invest in a well-established and growing market. The demand for housing is high and growing. For that reason, there is a substantial increase in both residential and commercial development. Tourism is the largest economy on the island, so there is a constant demand for various housing options. Many tourists prefer staying privately instead of in hotels and resorts, so buying a rental property can be very lucrative.
Excellent accessibility
Luckily for both tourists and investors, Jamaica is very easy to visit. Its proximity to the US makes it a popular destination for many. Not to mention that many tourists from Europe and all over the world choose to spend their vacation weeks in this sunny paradise. For that reason, dozens of airlines offer frequent and direct flights to Jamaican airports. There are airports in major Jamaica centers that welcome international travelers:
Norman Manley International Airport in Kingston,
Sangster International Airport in Montego Bay
Ian Fleming International Airport in Ocho Rios
What's more, there are highways and established routes that make finding your way through this beautiful country quite simple and enjoyable. Infrastructure is well-developed and growing. Significant investments in infrastructure and real estate developments enhance the island's appeal to both travelers and investors. All of these factors contribute to Jamaica's accessibility.
Plan for your international relocation
If you're planning to invest in Jamaica real estate, it's crucial you carefully plan your relocation. This is especially true for international buyers. As you may imagine, moving from one country to another is often a stressful and overwhelming process. The first step of smooth and easy international relocation is finding the right movers. Experienced movers will help you transfer everything you need with ease. Plus, they'll ensure your relocation is time and cost-effective.
If you invest in Jamaica real estate, you can expect a great ROI
As we've mentioned before, the housing market in Jamaica is flourishing. But, what distinguishes it, even more, are low property prices in comparison to other Caribbean islands. While you get the same advantages in terms of location and scenery, property prices are more affordable.
However, rent rates are always on the rise due to the high demand. Plus, there is a variety of housing options to choose from. From condos and townhouses to luxurious villas and even modular homes – there's something for everyone! Investing in real estate can be very lucrative and provide you with valuable additional income or cash flow.
Jamaica is an attractive tourist destination
What contributes to tourism and real estate growth is Jamaica's beautiful landscape and an abundance of entertainment options. Sandy beaches, turquoise sea, waterfalls, and mountains, Jamaica has everything you can wish for. Friendly and welcoming locals, decadent cuisine, music festivals, water sports, and various cultural events make it a unique and popular destination.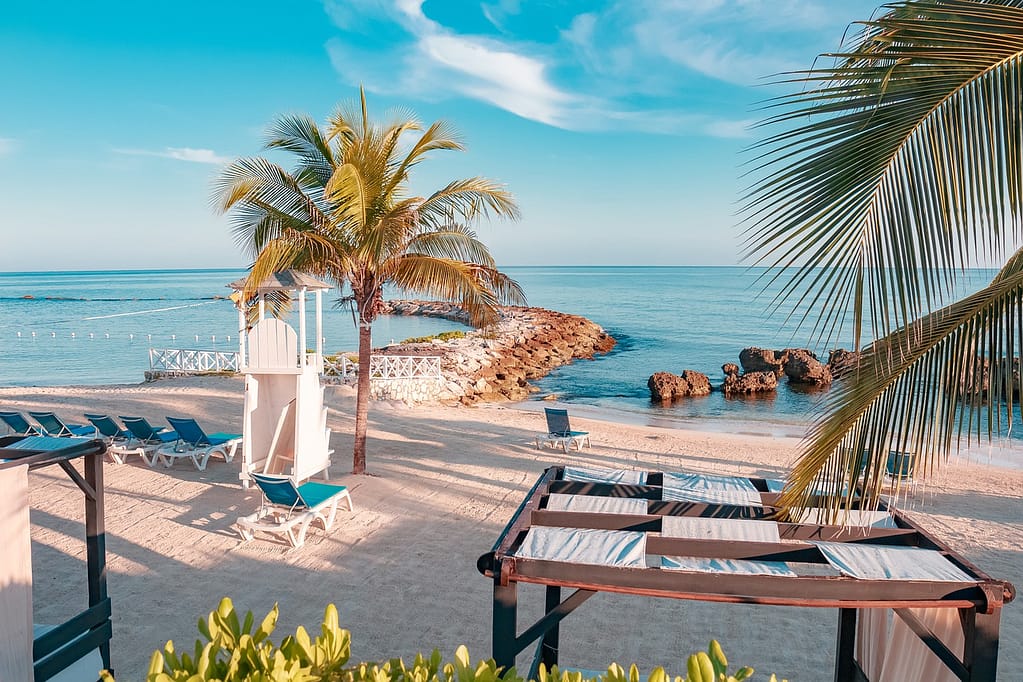 The bottom line
In a nutshell, there are many worthy reasons to invest in Jamaica real estate. The stable political and economic situation and the thriving tourism and real estate market encourage local and foreign investors alike. Due to lower closing costs and reduced taxes, buying a property in Jamaica is more affordable and lucrative than ever. Not only will you gain a profitable asset, but you'll also have a beautiful piece of this tropical paradise in your hands.
Meta description: This enchanting island in the Caribbeans attracts tourists and investors alike. Here are the top reasons to invest in Jamaica real estate!
Photos used:
https://pixabay.com/photos/jamaica-ocho-rios-sea-caribbean-5926927/
https://pixabay.com/photos/island-jamaica-beach-travel-6038435/
https://www.pexels.com/photo/men-shaking-hands-7578901/
https://pixabay.com/photos/international-banner-flag-jamaica-2693222/